Challenges
Main concerns to be addressed on electromobility management according to the EnerNETMob partners' perception in the involved countries: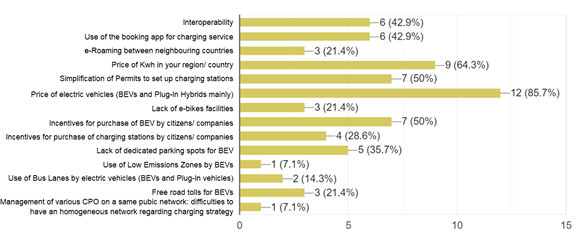 Policy recommendations
EneNETMob has drafted policy recommendations to address existing barriers and foster the uptake of electromobility in Mediterranean regions:
1) Update of regulatory framework so as to simplify the administrative procedures.
2) Provision of financial incentives for vehicles, private charging stations and charging costs through: grants, discounts, tax exempts, etc.
3) Increase the charging network density. Regulate minimum obligatory charging stations in new buildings/blocks.
4) Combine slow, fast and ultra-fast chargers according to the profile of the users and the urban planning.
5) Provision of accessible real time information for users: location, availability, pricing, technical characteristics. Provision of remote booking options.
6) Maximisation of RES use in the energy mix for charging
7) Maintenance by local companies (vehicles, charging stations, etc.)
8) Regulate a stable price for charging
9) Taking measures in order to avoid charging during peak hours, especially for tourist areas and islands
10) Increase awareness among potential users about the practical aspects of electromobility: pricing, benefits, etc.